Creating a swatch group from your swatches
Swatches are a convenient way to keep track of the colors in your document, and swatch groups are a convenient way to organize those convenient swatches.
Creating a swatch group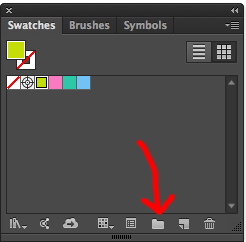 Make sure the swatch window is open by selecting Window > Swatches.
Click one of the swatches you'd like to include in the watch group.
Hold down the shift key and continue to click colors until they are all selected.
Click the New Color Group button (image above), provide a name, and you're all set.